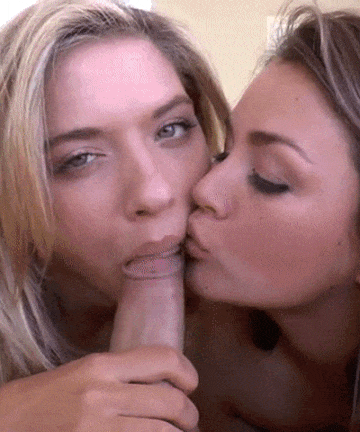 At noon, I called Reece's cell phone to tell her I was about to leave work to pick her up to take her to the airport. There was no answer. My first thought was that she changed her mind about saying good-bye and had left without a word like she had originally planned. Or, she could be in the shower. I decided to call back in twenty minutes as I was on the way to Sylvia's apartment.
All morning, my mood had been sour, to the point that Ginger called me on it and made an effort to get me out of it. I had to short-circuit her efforts because I had to leave. She came into my office and locked the door behind her. I knew something was up. Well, actually, I knew exactly what was up. She crossed to my desk and sat down in the chair beside my desk. She grinned at me and I smiled back. She said, "You're in a foul mood today. Maybe I can cheer you up." She started unbuttoning her blouse. I had to go soon but I was curious to see how far she was going to take this effort to cheer me up. She went further than I would have thought as she pulled off her blouse and reached behind her back and unhooked her bra and let that fall into her lap. She hoisted her big boobs to her lips and kissed each nipple before she swirled her tongue around them to get them hard.
Ginger had been embarrassed by the sag of her breasts when she had first 'blackmailed' me into having sex with her. We both enjoyed our sexual encounters and I like her breasts just the way they are and I tell her that frequently. She saw me check my watch and said, "Do you have to be somewhere?"
I said, "Actually, I do. I'm sorry." I looked over at her bare tits and said, "I mean I'm really sorry." She giggled and stood up and pulled my chair back away from my desk and then came around in front of me and hiked up her tight skirt to reveal that she wasn't wearing any underwear. She scooched her knees up my thighs and sat high in my lap and lifted her breasts to my face and rubbed them all around. I kissed them as they slid past my lips. I inhaled her perfume that she always sprayed between her globes.
She said, "I know you have to go but I thought a little massage would brighten your day." My laugh was muffled by her tits. She leaned back and started to inch her way back out of my lap.
I bent forward and kissed each of her nipples and then said, "I hate to go but I'm going to be late. Thanks for the massage. I think it helped." She laughed and stood up. She grabbed her bra and wrapped it around her waist and looked down to secure the hooks and then pulled the hooks around to her back and pulled the bra up to her boobs. She pulled the straps up over her shoulders and then reached her hand down into the cups and lifted her boobs into place. She giggled as I watched this process intently. She pulled on her blouse as I stood up and adjusted the position of my erection in my pants. She watched that process and giggled again as she tucked her blouse into her skirt. She smoothed everything in place and stepped to the door. She looked back over her shoulder and said, "Later?"
I said, "I'll be gone the rest of the afternoon. Tomorrow morning, early. I promise. We'll have 'coffee' together." She grinned broadly and opened the door. I was right behind her.
I called Reece's cell phone on the way and she answered on the fourth ring. The air that I was holding in my lungs oozed out of me as I relaxed. I told her I was on the way to pick her up. She giggled and said, "You're pretty early. Whatever should we do to take up the time?" I laughed and my flaccid dick made that initial jump. I pushed it back, which wasn't easy.
When I walked into the Lobby from the parking lot, Reece was coming in from the pool area. She was in a bikini and my dick hardened and there was no pushing it back. Reece giggled at the bulge in my pants and said, "Well, look at that, perfect timing." We stood there beside each other waiting for the elevator. She didn't say anything more but she was raking her fingernails along the contour of my cock in my pants. The elevator was empty when the doors shushed open. We stepped in and before the doors could shush closed, Reece yanked down my zipper and started jerking me off the moment that my cock flopped into her hand. I had the presence of mind to push a floor button so the door wouldn't open in the lobby again.
Reece squatted and inhaled my cock as she reached up and flicked the stop switch on the elevator control panel. I expected that alarms would be going off but there was total silence except for the feverish slurping of her mouth on my cock. She looked up at me with the sultriest look in her eyes as she furiously jammed her mouth on and off my cock.
Then she stopped and stood up and pressed her wet bathing suit top against my shirt and kissed me passionately. I grabbed her wet bikini bottom and pulled her tight to me, pressing my erection between us trapping her hand that was still jacking on it. We kissed for several moments. The elevator creaked. I was quickly just as horny as she was and I pushed back away from the wall she had me against and walked her backward to the closest wall. She was already peeling her bikini bottom, vivid porno covering her sex, to the side and guiding my cock to her pussy. We were both gasping for air as we furiously kissed everywhere, we could reach.
Her body was gyrating and she struggled to get the alignment right and then she found it just as I found that spot on her neck below her earlobe that drove her nuts and she drove herself onto my cock. She didn't scream, but she groaned hard and turned her head to the side to grant me full access to her neck. I took advantage and kissed and flicked my tongue on her neck. I moaned out, "Oh my gawwd, Dex. I love it when you do that. Fuck me. Oh gawwdd, fuck me." I did and she wrapped her legs around my back and locked her ankles and pulled and pushed against the elevator wall, to add as much action as she could.
Over our gasps and moans and groans, I could hear a muted voice that seemed very far away yelling, "Is there anyone in the elevator?" I ignored the voice and concentrated on driving Reece into as many orgasms as I could. I remembered that we had a brief discussion about having sex in the elevator and Reece had said something like, "Another time." This was that time. She hadn't forgot.
I was driving my hips at her trapped on the elevator wall and she groaned hard every time I penetrated her and then gasped in air as I withdrew. She began tightening her muscles and her head fell back against the wall as she started a deep guttural groan that built steadily to a wailing screech that she muted with the back of her hand as she burst into an orgasm. She flailed her hips at me in no particular rhythm and I just held on trying to keep my rhythm. She unhooked her ankles and let her legs dangle. Her feet didn't touch the floor, trapped on my cock like that. She went limp like a rag-doll as she hung there with her arms around my neck. My shirt was wet from her bikini top, that had slid up over her breasts. Her face was in my neck and she was softly chanting, "Oh God, Oh God," over and over again.
My own orgasm was on approach, but I tried to ignore it. I wanted to deliver Reece to the airport, relaxed and content after multiple orgasms. I reached down and grabbed her dangling thighs and lifted her up. She groaned, as I pulled my cock back to get her higher on the wall and she groaned again.
I pulled my cock from her pussy and she moaned and then frowned down at me. I smiled and then lowered her again as I pushed my cock to her anus and waited to see if she would object. She grinned and I thought we were a go but then she said, "Not now. Not here. Later. Let's do that later." She rotated her hips back and I dropped her pussy back on my cock. She groaned hard and squirmed her hips around to get the full sensation as I penetrated her again. I was confused by her statement, 'Let's do that later." What later? She was leaving to go back to her college and I likely would never see her again. I put that all away and concentrated on her second orgasm and my first one.
There was banging on the outside double doors and those muted voices again and I tuned them out as I jackhammered my cock into Reece's pussy. She was hanging onto my neck for dear life as she nibbled on my earlobe. That was my erogenous zone and she knew it. She was humping herself off the wall to collide in the middle. Her legs were now around the back of my thighs pulling and releasing. My orgasm had become undeniable and I humped up and let out a feral groan as I pulled all the way back to the ridgeline of my swollen knob and launched that first shot as I drove my cock deep in her sex. She screeched and threw herself at me. She exploded into an orgasm as I started mine. Her clenching pussy milked my cock dry and kept right on going as she continued to groan long after I was done driving a half-dozen powerful stream of jizz into her. I could feel it pushing out of her and down over my balls to the elevator carpet below as either I was pushing cum out of her as I fired more in, or she was forcing it out with her vaginal spasms.
She slumped limply in my arms and her legs dangled in the air again. She was gasping for air, and so was I. There was now a metallic banging on the outer elevator doors. I could envision firefighters forcing their way into the elevator with axes and pry-bars to find Reece nailed to the wall on my cock. I pulled my cock from her and the rest of the cum in her pussy drooled down her legs. She bent down and grabbed her towel off the floor and wiped herself dry. She pulled her bikini back in place to cover her sex while I used her towel to wipe off my cock and then pushed it back in my pants. It wasn't hard but it wasn't soft either. I found a place in my pants that was comfortable. There was a huge wet spot on my dress slacks though and my dress shirt and tie were wet from her bikini top, which Reece struggled to get back into place. We checked each other and Reece just giggled at the wet spot on my crotch.
When we were satisfied that we were mostly in order, I flicked the switch back to its original position and the elevator groaned and started moving again. We were above the fourth floor so when the woodman casting porno door opened no one was there. I pushed the fourth-floor button and we descended. When the doors opened, again there was no one there either. We stepped out and hurried to Sylvia's apartment as we heard several people hurrying up the stairs. We got inside before they arrived so they would be wondering what was the deal with the stalled elevator. Reece giggled in the hallway as she looked out through the peep-hole. She turned and grabbed my arms and pulled me to her and she kissed me hard.
She broke our embrace and said, "Jesus Dex. Why do you have to make it so hard to say good-bye."
I said, "Me? That thing in the elevator was your idea and I liked it." She giggled and we kissed again. I looked at my watch and said, "We'd better get cleaned up and get out of here. Her luggage was piled up in the living room.
We showered together and avoided any further sexual activity. We dried each other off and teased each other as we laughed. I used her hair-dryer to dry off the wet spots on my pants and shirt and redressed, leaving off the tie, which I shoved into my suitcoat pocket. I rolled up my shirt-sleeves to look more casual.
Reece dressed in a very sexy and classy outfit. You don't see anyone dress classy on an airplane anymore. I only knew how people dressed in the early days of air-travel from video clips and old movies, but in those days, it seemed everyone dressed up, all the time. I remember my great grandfather always wore a three-piece suit and only took off his suit jacket and rolled up his sleeves to work in the yard. His tie and vest would still be on. I never saw him once, that I could remember, without at least his vest and tie on.
I loaded her luggage on the elevator while she held the door open. When we got to the lobby, several guys in maintenance uniforms were there with some equipment. One of the guys helped me unload the luggage as he gawked at Reece. He asked her if we had any trouble with the elevator and Reece told him we hadn't. I pulled Dad's car up to the entrance and left it running as I loaded the trunk. We had enough time to stop at a fast food place for a quick lunch. We talked and reminisced about our short time together.
As we pulled into the airport parking lot, Reece said, "You know? It's kind of funny. I've always gravitated to the bad-boys and have got in some trouble as a result. Sylvia says that I'm the wild one but I never thought so. She got me to come here promising a big cock that happened to be attached to a nice guy. At first, I was intrigued by the big cock and not so much by the nice guy part. After a few weeks, I'm going home hung up on the nice guy. Go figure."
I laughed as I took the automatically dispensed parking ticket and said, "And the big cock? Where do you stand on that?"
Reece looked over at me and said, "It's a nice accessory." We both roared with laughter as we got out of the car. A 'Skycap' was there with his cart before I even got the trunk open. He loaded Reece's luggage on his cart and asked what airline. Reece showed him her ticket and he led the way as we followed. She took my hand as we walked. She hadn't done that before. We confirmed that the 'skycap' had checked her bags and I gave him a tip. He tipped his cap and smiled as he headed back to the parking garage.
I could only go so far before only passengers were allowed. We stood off to the side, out of the line and kissed and hugged. She teared up and got me going too. Saying good-bye was hard and we didn't want to part but she had to go. I watched her go through security and collect her 'carry-on' as she headed deeper into the concourse. She kept looking back and waving until she was out of sight. If I didn't feel bad enough this morning, I really felt bummed now. I moped as I returned to the garage, paid to get the gate to raise and drove back to work. I didn't even remember the drive. My mind was not on the road. I just arrived where I was supposed to. Strange how that happens.
As I headed back to my office, I had an urge to see Sylvia. I wanted to see how things had gone this morning and to commiserate with her. She was at her desk. Her elbows were on the edge and her face was buried in her hands. She heard me walk in and she looked up and saw the sadness on my face and burst out crying. Between sobs she mumbled, "I miss her already." I went over and sat down in the chair to the side of her desk. I reached in and took her hand and she grabbed mine back and gripped it hard. It was difficult, but I kept myself together. I didn't want Dad to walk out of his office and see me crying. I guess that's a macho thing. I let her crush my hand until she got herself together. She sulked and snuffled and let my hand go so she could grab a bunch of tissues. I didn't say a word to her. I was just there and she seemed happy with that. She stood up from her chair and I stood too. She blew her nose in the tissues and pushed her body to mine and wrapped her arms around my neck and whispered, "Thank you Dex. I needed someone at that exact moment that you walked in. You're a good türkçe alt yazı porno friend." She kissed me on the cheek just as Dad opened his door and appeared with his briefcase. He stopped short and Sylvia pulled back away from me and turned so Dad might not see her face.
I looked at Dad and said, "She's missing her sister. I just dropped her off at the airport." My eyes misted as I spoke. I turned away from Dad too.
Dad said, "Are you ready to go?" I nodded and kissed Sylvia on the neck as she was turned to the windows behind her desk. She turned slightly and said, "Fatima has a gig tonight and I'd rather not be alone. Could you come over and keep me company?" I smiled and nodded. Dad was already out in the hall headed for the elevators. I headed for the door and then turned and said, "I should be there before dark, okay?" She sniffled and nodded and then smiled at me. I caught up with Dad at the elevator. He was holding the door. We rode down in silence as I turned away from him to wipe my eyes with the sleeve of my suit coat.
June and Julie were waiting by the car when we arrived. Julie was camped out at the passenger side door and when Dad pressed the fob to unlock the car, she yanked it open and jumped in. She grinned at me as she did it. I was fine sitting in the back with June. Julie giggled thinking that she had pulled off a major coup. The girls yammered over the front seat about something that happened at work. I didn't catch it all and I didn't care. I was exhausted and stayed out of their conversation and stewed in my own misery.
Mom met us at the front door and kissed each of us and she locked on to my mood. I went upstairs to change into something comfortable that I could wear to Sylvia's later. I had removed my pants and shirt and didn't notice Mom until she closed my bedroom door. I turned and saw her standing by my bureau. She asked why I was so down and I told her. She came over and sat beside me on the bed and hugged me to her. I didn't mist up again but talking through it again made my mood worse. I told her that Sylvia was missing her sister really bad and I was going over there later so she wouldn't be alone.
Mom was silent for several moments and then she put her closest hand on my thigh and slowly inched it up under the leg of my boxers until her hand found my flaccid cock dangling to the left of my balls. I wasn't really in the mood but as always, my dick was, and it pushed up against Mom's hand. I turned my head to look at her and she was grinning at me. She moved her hand around and gripped my hardening cock. I looked away from her, kind of pissed that my dick had abandoned me. It steadily grew harder as Mom continued to manipulate it. There was no way to ignore Mom when she wanted something, especially if that something was related to sex.
Mom leaned toward me and kissed me on the neck and then laid her face there. She whispered, "I'll leave you alone if that's what you want. I just thought maybe a blow job or something would get your mind off your troubles. I don't like to see you sad like this."
Internally, I chuckled to myself. I knew there was nothing that could adjust my attitude faster than Mom's blow job." I joined with my partner in crime pushing against her hand and manually flexed my cock. She gripped my cock harder and then released it as she slid off my bed to her knees in front of me. She pulled down my boxers as I lifted my ass to help her. She was grinning broadly when my raging hard-on snapped up to attention right in front of her face. She looked up at me as she grabbed my cock with both hands. She watched me intently as her hands did there thing. She had magic hands to pair with her magic mouth. She was slowly jerking me off with a steadily tighter grip waiting for that first groan and when I gave it to her, she grinned hard, which made me smile down at her. She was getting to me and she knew it.
She intently looked up at my face as she lowered her lips to my cock. It was throbbing with anticipation as I lifted my hips off the bed to shorten the distance between us. She smiled. She knew I was ready but she held back as she dragged her tongue around the velvety crown and around the ridge and worked on the 'spot'. Fuck. She's the best cocksucker I know. The best at raising me up and letting me fall back and repeating the process. It was impossible to anticipate her process. It was always different. She somehow interpreted my cock and hip movements, even how my body tensed to modify her attack. She was the master. I chuckled to myself as I thought, 'She's the master-bator.'
Mom watched my face as she pressed her lips to my glans and kissed it before forcing her pursed lips over the crown and down my shaft, displacing her hands as she went. She watched my face and smiled around my shaft at my facial contortions. She eased her mouth down further and then began rapidly throat-fucking my knob. Fuck, I knew I was a goner if she kept that up very long. I groaned and humped up my hips. She pulled back and slowly dragged her lips up my shaft until she locked her lips on the ridge and began jerking me off again with both hand counter-rotating. She never took her eyes off mine. Her eyes always 'smiled' when she was giving a blow job. They revealed how much she enjoyed giving them and therefore raised my libido. I hardened further and she smiled in reaction. I wanted desperately for Mom's blow job to go on forever.