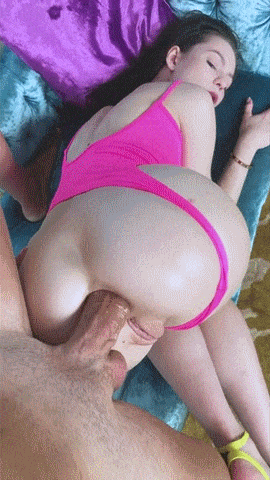 Katrin went up to the counter and ordered a third cappuccino from the surly mustachioed barista, despite the fact that she was already shaking from a caffeine buzz. It was nearly lunch time, but she was not hungry. After stewing for a couple of hours about her business partner Malena's tactless job postings she decided to do some posting of her own. If BJ Bliss was going to venture out into the suburbs for some blowjob workshops then she would have to start getting the word out about their services and line up some clients.
Katrin looked on in annoyance at the barista as he slowly prepared her drink, pausing frequently to regale an attractive tattooed female co-worker with his knowledge of the local music scene. Katrin rolled her eyes and decided to wait for the drink at her table, when her phone vibrated with a text from Peter: I'm free Friday morning for a follow-up meeting if you're interested?
After pausing for what she felt was the appropriate amount of seconds, she replied to confirm the time and place. A rush of relief washed over her. She had been stressed from the moment Peter left their office the previous morning as she wondered if he would want to see her again.
Katrin felt terrible about her fight with Malena and realized that she might have overreacted. She decided to head back to the office and make amends.
"Miss! Your cappuccino is ready," the barista called out to her as she headed for the door.
"You can have it," she said as she threw some bills on the counter on her way out.
****
"So, let me get this straight. You hired an intern and two blowjob models just this morning while I was gone?" Katrin questioned Malena, who sat on top of Katrin's desk with her legs crossed in front of the new intern who sat comfortably behind her in a chair with a nervous smile. "And you fucked them."
"Yes, but—," Malena pleaded.
"Fine," Katrin replied sincerely. "Thank you, Malena. I appreciate your hard work. Holly, welcome to the team," Katrin added as she tilted to wave at Holly behind the desk.
"What?" Malena said with a puzzled look. "That's it? Everything's okay?"
"Yes," Katrin confirmed. "I realize that I can be a control freak and that I've been running things on my own for the last few years. You're just trying to help and I'm sorry that I yelled at you earlier. If you can just keep me posted on what you are up to and get my agreement about big decisions from now on, I think everything will go smoothly."
"Thank you, Katrin. I really appreciate that." Malena replied as she turned and began thumbing through Katrin's desk drawer. "Where you keep the tablet charger?"
"Malena," Katrin said with a pleasant smile.
"Yes?"
"Please get the fuck off of my desk."
****
"Bob, I have a question for you," Mika said just as she finished seductively running her tongue slowly up the length of his bulging erect cock. "Who do you prefer, me or my sister?"
Bob hesitated to respond. He looked around the lavishly decorated studio with its pink accents, priceless art, and expensive vintage furniture and wondered just how long he had been standing in the same position, enduring relentless licking and sucking from the twin sisters below him. There were no clocks anywhere to be seen.
"Answer me, Bob," Mika insisted as she tightly squeezed his shaft and caused his head to swell beyond comfort. He looked down to see Mika eyeing him intensely while her twin sister, Miho, continued to slurp on his balls. "Miho is the submissive one. She's happy to suck a warm load out of you. I, however, demand satisfaction. Remember the last time I tied you up and rubbed my wet pussy on your face?" Mika teased. "So tell me—who do you prefer?"
"That's enough, Mika," Felicia commanded from the doorway, having re-entered the top floor studio to check their progress. "You can be so cruel," she added with a wicked smile as she approached to stroke her fingers through Mika's hair. Felicia watched on as the sexy Japanese-American twins continued to pleasure Bob's hard cock and tightened balls with eager wet tongues.
"Bob, I am very impressed," Felicia complimented. "You just passed the three-hour mark and beat the old record by a long shot."
"My pleasure, Ms. Trésor," Bob responded in between deep breaths as he struggled to contain himself from the relentless sucking and slurping.
Felicia turned to admire herself in the nearby boudoir mirror. She unzipped and slipped off her short red designer dress to reveal a lacy white teddy that barely contained her enhanced F-cup breasts and rode seductively into the crack of her ass. Shiny pearls dangled from her neck, and an extremely rare 14-carat pink diamond sparkled from her left hand. For a woman approaching her late 40s, she kept herself in astonishing shape and easily captured the attention of younger and older men alike.
"We appreciate your help with our research, Bob," Felicia commented. Her eyes were still on the mirror as she bedava bahis slowly pulled down the straps of her teddy to let her large, pointy nipples out for some air. "Our advanced fellatio class will benefit greatly from these well-researched longevity techniques, isn't that right girls?"
"Yes, Ms. Trésor," Miho responded.
"Yes, Felicia," Mika confirmed as she rolled her eyes spitefully and squeezed Bob's throbbing cock even harder. Mika proceeded to rub his shaft slowly across her face and looked at him with piercing intensity. He groaned with pleasure and frustration and focused on holding back his orgasm.
"Girls, I do hope you have been taking appropriate breaks during shifts. I know you enjoy teaming up, but I can't have you overworking those sweet little jaws of yours," Felicia added as she continued to watch on and massage her large breasts.
"We are doing fine, Felicia," Mika replied. "We've been tying him off now and then to keep him swollen and to give ourselves a rest. A little bit of desensitizing cream went a long way as well. Bob has been a good sport."
"I'm very impressed, Mika. You have exceeded all of my expectations as a protégé. We need to talk soon about your transition to Lead Fellatio Instructor."
Mika's eyes widened and she looked down at her sister with excitement.
"I think it is time we put him out of his misery, girls," Felicia recommended mercifully, causing Bob to breathe a sigh of relief. The twins shared an excited glance as Felicia approached Bob and pushed her bulbous breasts together seductively. She took him by his sweaty bald head and pressed his face into her chest, covering him with her soft bosom. He eagerly licked her nipples while she reached down to feel his excessively engorged member in her hand.
"What have we here?" Felicia inquired, her green eyes lighting up with excitement as she enjoyed a throbbing handful. "You are a beast, Bob. My beast. I want you to fuck me like one," she commanded as she stroked his smooth bald head in one hand and his cock in the other.
The twins stepped aside as Felicia shoved Bob on to the leather couch and straddled him. She enjoyed the slow slide of his thick erection as it penetrated her dripping wet slit. "Do you like working for me, Bob?"
"Yes, Ms. Trésor," he confirmed as he struggled to endure her pelvic clenching and held off his building climax.
"Don't toy with me," she scolded as she slapped him playfully on the cheek and grabbed him by the chin. "Tell me what you like about me, Bob. Is it my big tits?"
"Yes," he groaned sincerely. Felicia continued to slide up and down on his shaft and Mika and Miho mercilessly teased his balls with their tongues at the edge of the couch, making it all the more impossible to hold back the impending blast.
"Do you like getting sucked off by my girls and cumming all over their pretty little faces, Bob? Do you like it when we eat your cum and lick it off of each other?" Felicia continued in a louder and more demanding tone. "Do want to fill me with your hot load?"
"Yes, please," Bob begged her.
"Go ahead and give it to me, big boy," Felicia demanded as her lips quivered in anticipation.
Bob groaned loudly as he fired off his three-hour buildup in a series of powerful spurts, causing Felicia to squirm with satisfaction. She clenched him tightly and buried his face in her tits as they climaxed together.
Bob watched in awe as Felicia lifted her hips and allowed his cock to slide out, giving Mika and Miho a chance to slurp the cum as it dripped out of her opening.
"Girls, you are going to make me cum again," Felicia called out in between moans. She shut her eyes and rested her head on Bob's shoulder while enjoyed the sensation of slippery, cum-covered tongues dancing across her engorged pussy lips. The twins eagerly responded to Felicia's convulsions and pleasured her asshole and clit until she climaxed as second time.
"Thank you, girls. No one on earth could possibly please me the way that you do. If you don't mind, I'd like a minute alone with Bob," Felicia requested as her voice trembled with pleasure. Mika and Miho exited the studio fully nude and headed towards the shower, giving Bob a view of their slender asses. They waved goodbye as they pulled the door shut behind them.
"Bob, I have a job for you," Felicia began, standing over him. "I have some names and addresses for you to look into, it's another blowjob outfit called BJ Bliss. Get me whatever you can. I want to know who their customers are. I want you to tap me into their office. I want their personal records, their employees' records, whatever you can find. I sent you an email with everything that I already have on them."
"Yes, Ms. Trésor," he replied from the couch as he caught his breath. "I'm on it." Felicia stripped off her expensive, white lace teddy and exited the studio wearing only her heels. She was on her way to shower with the twins.
Bob suddenly bedava bonus realized who Felicia was referring to: the BJ Bliss girls that Felicia had confronted in the tiki bar a day earlier. He thought about Malena, her dark, flowing hair, her exotic eyes, the curves of her ass moving alluringly as she walked in her high heels. He marveled at the chance to encounter her again.
****
Katrin requested that Peter meet her at the café down the street from her office early that Friday morning. The outdoor seating had been arranged in the French-style, with all chairs facing out towards the street like a theater, giving the patrons license to sip and stare. Katrin and Peter went through an awkward charade, not knowing if they should hug or shake hands and ended up in each other's arms briefly in front of the café customers.
"This is the best coffee you can get in the neighborhood or really anywhere in the city," Katrin proclaimed proudly.
"Is that so?" Peter asked as he held the metal framed door open for her. Katrin breezed past him in her short, flowery pink sundress, giving him a nice whiff of her perfume and a look at her sexy, tan legs.
"You again," the mustachioed barista said with a frown to Katrin. She smiled back and shrugged her shoulders.
Peter chimed in with an order, "I'll have a latte and she'll have a—", he glanced at Katrin.
"Cappuccino," Katrin added.
"Sure," the barista responded as he rolled his eyes at Peter and turned to the espresso machine. Katrin looked over Peter's appearance. Again, he wore a nice suit, this time with no tie and a light blue shirt that was popped open at the top to show off a small segment of his smooth chest.
"They think you're going to gentrify their neighborhood," Katrin whispered to Peter as she nodded her head towards the young baristas behind the counter.
"Didn't they already beat me to it?" Peter responded dryly. "Don't worry, I'm not moving here. I'm safely stowed away in my downtown condo like a good yuppie." Katrin laughed and guided him to her favorite table while Peter carried their drinks.
"So what made you want to get your CPA and pass the bar? Are you some kind of masochist?" she quipped before taking a nice slow drink of her cappuccino. She had spent a great deal of time crafting that gem.
"Well, first of all, that was quite a few years ago. I couldn't do it today, I'm an old man."
"Oh, shoosh," Katrin replied and then cringed. Shoosh? Really, Katrin?
She inspected his face closely and guessed that he was in his late thirties and maybe only a few years older than her. His curly, dark brown hair showed the slightest specs of grey on the sides, which Katrin found quite attractive.
"I was just trying to find my calling," Peter explained, "I learned a lot from those experiences but I don't have a valid CPA license anymore. I'm not interested in doing other people's taxes."
"So what are you interested in, Peter?" Katrin asked in a sultry manner and then mentally patted herself on the back for the clever delivery.
"I have a pretty big extended family here from Russia and the Ukraine. My dad and uncles all ran their own businesses. I've always wanted to help them out. I've seen mismanagement ruin a lot of businesses in the neighborhood that I grew up in. So now, most of my clients are small, family-owned operations. They deserve help and consultation just like the big corporations." He took a long and thoughtful sip of his beverage, "And so do you, I might add."
"Well, I think that is wonderful what you are doing. You've already given me a lot to consider for the business. We'll definitely use the consent forms that you provided. Thanks to you, I'm not too worried about any legal issues with the workshops."
"No glasses today?" Peter asked suddenly as he took another sip of his latte. He admired Katrin's youthful appearance, her cute denim jacket that she wore over her dress, her prominent angular cheekbones, and the golden sheen of her blonde hair that was neatly combed back into a ponytail.
"No glasses," Katrin replied. She recalled looking up at him through her glasses the previous morning during the impromptu double blowjob with her business partner, Malena. "You really are a glasses guy aren't you?"
"I think your glasses are very attractive, but I like the direct view of your eyes."
"Thank you," Katrin said with a blush. She lifted her cup to take a drink and noticed her hand was trembling slightly. Despite her healthy level of self-confidence and assertive personality, receiving compliments always made her nervous and uncomfortable.
"Katrin," Peter began in a serious tone. "I can't top the experience that you gave me the other day," —Katrin braced herself— "But, if you're interested, I would like to at least try to impress you the old-fashioned way. With dinner."
"OK!" Katrin replied eagerly and then took a deep breath. "I mean, I would be interested in having deneme bonusu dinner with you."
"Great, I can pick you up tomorrow night at 8 if you're free?"
"That would be perfect," Katrin confirmed hastily. Good move, Katrin. Of course I don't have any plans on a Saturday night, Peter. I just sit around in my apartment, desperate and horny. Desperate and horny.
Katrin quickly cheered up, despite her inability to play it cool, and got excited about the date. They sipped the rest of their drinks and shifted to a discussion of business, as planned, while the sun continued to rise on a new work day.
****
Back at BJ Bliss headquarters, the entire team had assembled and they eagerly prepared for their first day of live blowjob workshops. Katrin was happy to see that things were not awkward with Malena and Holly and the blowjob models, Justin and Marco, despite their previous sexual encounter.
"Are you talking about me?" Katrin asked Malena and Marco with playful suspicion as they conversed in Spanish over at Malena's desk with frequent bursts of laughter.
"Of course not, my love," Malena assured her.
"Oh, really?" Katrin replied with suspicion. "I'm pretty sure I heard a Katrin in there and it was dangerously close to a no me gusta."
"Ms. Olsson, we would never disrespect you," Marco added with his charming accent and a serious expression. "Ms. Morales was explaining that you run a very professional operation."
"That I do," Katrin confirmed as she stepped out from behind her desk to address the room. She was still running on a high from her coffee date with Peter and was excited to motivate her team for their first day in the field.
"Thanks to Holly's quick follow-up I am very happy to say that BJ Bliss will be out on the road today conducting our first day of workshops," Katrin announced. "I am so proud of all that we have accomplished in these short few days. Malena, you especially, given that you hired this wonderful staff." Malena elbowed Marco on the shoulder and smiled boastfully.
"For today," Katrin continued, "Holly will assist me with the two workshops. As you know, we have a late afternoon bridal shower and an evening divorce party. Justin and Marco, have you been saving yourselves up for this?"
"Yes ma'am!" Justin confirmed with enthusiasm. "Two parties will be no problem."
"Ms. Olsson," Marco began, "Marco is going to provide as many loads as the clients require. I am proud to be a part of the team and I will perform at my very best."
"Thank you guys," Katrin responded with a laugh. Where in the hell did Malena get these guys? They are fucking adorable.
"Now Holly, I'm going to put you in charge of the consent forms. Remember, if anyone asks, the forms indicate that these workshops are in no way selling or guaranteeing any live blowjob demonstrations or practice. Marco and Justin are simply there to escort us and anything that is done to them during the session is entirely based on the spontaneous actions of consenting adults," Katrin explained with a wink. "Let's load up the practice dildos and supplies, we are off!"
Holly, Justin, and Marco packed up the supplies in Katrin's little red Kia sedan while she gathered her things and had a quick chat with Malena.
"Are you sure this okay?" Katrin asked with concern. "I wanted to bring you along too, but there are already four people in the car, I don't want there to be more of us than the clients."
"Katrin, I told you, I'm good. I'll organize the office while you're out and work on new leads. I'll keep bringing in the meat and you can go out and make the sausage," Malena assured her in a jumble of misappropriated clichés.
"Thank you so much for understanding, you are the best," Katrin said as she gave her partner a warm hug.
With that, Katrin and her team hit the highway. They were headed northwest into an indistinguishable subdivision to show a lucky young bachelorette and her friends a whole new meaning to the term "bridal shower".
****
An hour after Katrin departed, Malena had buried herself deep into the Studio Trésor website while she sipped on coffee. She gathered as many workshop details as she could from their competitor, with many long detours to view the enviable lingerie and toy collection. She was interrupted suddenly by an unexpected knock at the back door. She rushed to the door as fast as she could in her heels, with her chest bouncing under her tight purple top.
"Miss, I am very sorry to intrude," the handsome man began as Malena opened the door. "I am Panos, I own the building and live up on the 3rd floor," he explained as he reached out for a firm handshake.
Malena liked what she saw, a handsome well-tanned man with black curly hair and a tool belt wrapped around his jeans. His prominent biceps stretched against the sleeves of his tight white t-shirt. She enjoyed the harsh feel of his callused hand and his strong grip as she shook it. His accent and name clued her in to the fact that must be Greek. She half expected him to tear off his pants and reveal himself as a stripper.
"What do you want? I was trying to get some work done," Malena teased with her best poker face while she sneaked a peek at his crotch.