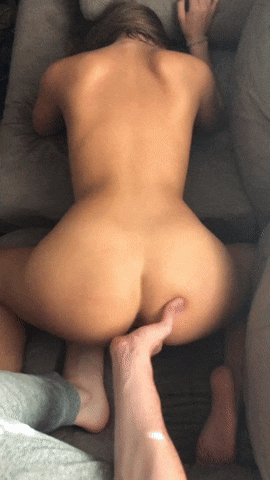 My name is Kevin and I thought I'd share with you how I broke in my girlfriend's ass. Her name was Karen and we had been dating for a year and, while we loved to fool around and she loved to swallow my cock and cum, I had long since turned her into a cum-loving girl who was very open about sex with me but she refused to let me fuck her. She was a virgin and was saving herself for marriage, which at that point was crazy. But let's get to the reason why you 're here, to hear my story.
For those six months we had dated, we had done everything that we could without having sex, and I was having a hard time trying to be a good guy and force her into it, but I was happy with the two to three blowjobs a day and getting to see her naked whenever I wanted. Every blowjob ended with her swallowing or with me covering her face and tits, which was just fine in my opinion but I did want more. It was my twenty-fifth birthday and when I woke to my alarm I found a text saying, "good morning, baby. I wanted to let you sleep in, but I have a surprise for you tonight. I'm leaving you clues to see if you can guess." I wasn't sure what exactly that meant because she loved to surprise me with little things she knew I liked. I smiled to myself as I got up and headed for the shower. Pulling the curtain back I found taped to the far wall a picture of the furry handcuffs Karen and I had used on several occasions to play around. I pulled it down and looked it over carefully before I discovered her handwriting on the back that simply stated, "clue 1." I showered quickly and threw on my work clothes where I discovered a bright red, lacy thong in my pants pocket with a note that read,
"This isn't a clue, but I thought this might be cute. Remember the last time I wore these? When we invited Susan to join our playtime?"
I couldn't help but smile and feel myself grow hard in my pants at the thought. Susan was Karen's co-worker who she had convinced into joining us for a night. I got to watch them go down on each other, get my first and so far only two person blowjob and Karen even let me fuck Susan while they 69'd and of course Karen got to swallow my cum which was only fair.
I left home with an uncomfortable erection that had died down by the time I had reached work. Work was pretty standard, a few people wished me happy birthday, I got a couple of cards and a birthday muffin. When the mail came if I got my second clue of day, a package arrived for me with her name on it and remembering her little gift of panties I shut my office door before opening it. Inside I found three things: a blindfold, a short bit of silk rope and another note. We had never used a blindfold in our play, but we had talked about it a few times and never bothered to buy one. The rope confused me even more since I had never talked about anything more than handcuffs but it did get my imagination running wild. I indulged my imagination for a few moments and smiled as I thought about what she could be planning before looking at the note, that said,
"Hey baby, I hope you haven't figure out your gift yet because it would take all the fun out of tonight. I hope you're enjoying the clues and the gift you've gotten so far. I have other's planned for you today but don't get worn out."
I smiled to myself and was now very curious about what she had planned for me tonight it took me almost an hour to settle down and get back to work. At 10:30 Sara, my best friend at work asked if I wanted to go out to lunch with her for my birthday. She leaned against the doorframe with her arms crossed. I looked her over and admired her. She wore a short, tight skirt that stopped at mid-thigh and a snug blouse that was stretched across her ample breasts with enough of the top buttons undone that he cleavage was clearly visible. I was still having issues concentrating on my job so I readily agreed to get out of my office and relax a bit. Sara told me she had a place she picked out for lunch and I didn't ask as I climbed into her car and let her drive me across town to Volf's, one of the nicest restaurants in town.
"I can't let you take me here," I protested as she pulled up at the valet.
"You can too. It's my gift to you and you deserve it," she said smiling as she climbed out of the car and left me little choice but to get out of the car and follow her into the restaurant. As I climbed out of the car, I took a moment to enjoy the way her ass rolled inside her skirt and smiled at the mental picture my imagination conjured up of her naked ass. I caught up to Sara, "are you mad? No way can you afford internet casino to take me to lunch here, or get a table. "
"Relax, Kevin, I already have a table. I set this up months ago and thought you would like it," she told me as she made her way up to the hostess and gave her the name. The hostess led us to a secluded corner of the restaurant, away from the rest of the lunch crowd. Sara sat down across from me and smiled a cat's smile at me.
"How are things between you and Karen," she asked after a moment, her hands idly playing with the folded napkin.
"Good. She's an amazing girl and she is sweet. Though she does have some weird limits, but I think I love her."
Sara smiled at me, "so you think you're going to propose to her? I think she'd enjoy that. I mean she's stayed with you for a year." I laughed gently, "I might. But I haven't found a ring that I could give her yet. She's too great for the one's I've found so far."
The rest of the meal continued in much the same vein until dessert came. As the waiter left the desert sitting on the table, I felt a foot brush my crotch and nearly choked on the bite of cheesecake I had in my mouth. Sara was grinning that same cat's grin at me and rubbed her foot along my crotch gently. My cock quickly responded and grew in my pants as her foot rubbed me. "Ohh," she whispered, "seems someone doesn't object to this." I swallowed and tried to pay attention to my cheesecake and ignore her, which was not easy. Finally lunch ended and my cock was hard as a rock in my work pants and I realized that I would have to walk past everyone with a bulge in my pants. I took a deep breath and walked beside Sara as we left Volf's. I figured she was teasing me, but the torment continued in the car as she placed her hand on my cock, squeezing it gently through my pants and sliding her hand along the length of my shaft. Once more I tried to ignore her, thinking she'd simply leave me alone if I never responded to her.
After what felt like an eternity, but what was actually only the same 40-minute drive we had already experienced on the way to lunch. Once back inside the office I had to pass Stephanie, the secretary with the continued bulge in my pants, which I know, she noticed as she looked it over and smiled up at me. Sara followed me to my office and leaned against the doorframe.
"Did you enjoy lunch, and more importantly, did you enjoy dessert?" I smiled at her, not quite sure how to respond to the attention she had given me but finally I told her I enjoyed it very much. Sara stepped further into my office and shut the door behind her. "That's good," she whispered as she swayed over to the chair I was in, bending over and placing her hands on my thighs.
"Would you like to experience some more," she asked quietly and licked her lips. I stuttered for a moment before my cell phone rang and I grabbed it quickly.
"Hello," I mumbled as she knelt in front of me rubbing my cock.
"Hey baby," came the voice of Karen through the phone, "are you enjoying your birthday?"
"I am indeed, baby. It's been a good one," I said as Sara grabbed my zipper and pulled it open. I didn't know how to react, I couldn't very well, tell her to stop with Karen on the phone.
"I have a question, babe. Is Sara in the room," she asked.
"Umm… yes she is. Why?"
"Enjoy your second gift baby. You can fuck her if you want, but you have to cum on her pretty little face and send me a picture of it," she told me in a purr.
"You set this up, babe?"
"Of course I did baby. I know you wouldn't cheat on me, but I want you to enjoy today as much as you can. Goodbye, baby," she said and hung up. My eyes widened as I looked down at Sara as she reached into my zipper and fished for my cock.
"She told you I take it," she whispered to me as she pulled my eight inch long and three inch around cock and popped it into her mouth.
I moaned as she sucked gently on the head, swirling her tongue around it. She sucked on the head for a moment longer before pulling it out of her mouth with a popping noise.
"You're pretty big. I'm going to really love this," she whispered and licked from the base of my shaft back up to the head. She slowly licked up my shaft again and took the head back into her mouth. Slowly, painfully slowly in fact, she began to take my cock further into her mouth. She moaned around my cock making me shiver and moan. Sara reached up and undid the button on my pants and popped my cock out of her mouth to pull my pants and underwear down.
"Karen canlı poker oyna said you were going to fuck me silly but I had to let you cum on my face. Are you going to fuck me," she whispered between more licks of my cock.
"Mmm… she said I could, so I plan on it," I tangle my hand in her hair and pulled her hair back making her moan as I settle my cock on her tongue. I slowly slid my cock deep into her mouth and making her gag as I pushed it against the back of her throat and held her there as her eyes watered. I slowly pulled my cock out of her mouth and suddenly began to face fuck her, making her gag with every thrust, but she moaned constantly and loved every second of it.
"Bend over the desk," I told her as I let her go. She quickly listened, jutting her ass into the air. I quickly rolled her skirt up, revealing her tight and sculpted ass and the black g-string she was wearing. I slapped her ass hard, leaving a handprint on it as I asked if she was a naughty girl.
"Oh yes," she moaned, "I'm so bad, fucking another girl's boyfriend. I want you to fuck me and cover my face in your hot cum." Her moans made me want to fuck her and I grabbed her g-string, ripping it to the side I buried my eight inches into her tight, wet pussy. She bit her lip to keep from screaming loudly in the crowded office. I briefly entertained the idea of fucking her slowly, but quickly changed my mind and began to pound her roughly. I grabbed her hands, pulling them behind her back as I fucked her hard.
He body quivered as she reached her orgasm beneath my wild fucking.
"God, Kevin, I love it. Fuck me," she begged me. I let her hands go and grabbed her hips instead and continue to fuck her with abandon. I'd been worked up most of the morning and knew I wouldn't last much longer as I fell back into my office chair, holding her impaled on my cock.
"Get your shirt off," I grunt at her, moaning loudly. She almost tears her top in two as she exposes her bra-covered tits to anyone who would walk into the room.
"Alright, slut, kneel and get ready for my cum." She takes no time at all to kneel in front of me, opening her mouth and cupping her tits as I jerk my cock. In moments I cum a heavy loud on her face, covering it from her eyes to her chin where it dripped down onto her large, heaving tits.
"Good girl," I pant as I snap a picture with my phone. Sara smiles and begins scrapping the cum from her face and into her mouth, swallowing it readily. The cum on her tits she leaves there as she pops the head of my cock back into her mouth and sucks out any remaining jizz.
"Mmm," she moans as she stands, "that was great, Kevin. I wish we could do it more often, but I think Karen would be jealous." Sara rubs the cum into her chest before buttoning her shirt over it. She reaches into her purse and pulls out a picture of a permanent marker that claimed it was the third clue, but I wasn't sure what this had to do with anything, but I eventually pulled my pants back up and she disappeared back to her office. It was almost three o'clock by the time Sara left and I sat back down, but my mind was not on work. My phone rang again and I picked it up to hear Karen again.
"Hey, baby. I see you liked that gift a lot. Hopefully not more than your final gift tonight. I have two more for you."
"If they are like the last one, I'll think you're trying to kill me, babe."
"Oh, they are even better than that. The next one is in your car, waiting for you. It's in the box on the passenger seat. You're next clue is also in that box, babe. I'll see you tonight," she promised and hung up the phone. The next hour passed slowly but it was finally time to quit and I headed straight for my car to find the box sitting there as promised. I used my keys to cut the box open and found a slip of paper that held the word exit. And gift card to my favorite restaurant and a note that told me to eat before coming home. I grinned to myself about the restaurant and pulled into traffic.
I arrived home, full and happy and found a freshly baked cake on the counter and one last note that claimed,
"Hope you had an amazing day, baby. You're last gift is in the bedroom. Enjoy some cake first or come and see what I've been planning for you."
I smiled and only thought about eating the cake for a moment, but I was full and curious to see what was in the bedroom for me. I walked through my apartment quietly and opened the bedroom door to see something I had never imagined. Karen was naked on my bed, her face planted in the poker oyna pillow with her hands cuffed behind her back. Her ankles were tied to the footboard and spread for him. She was blindfolded and when she heard him enter she spread her ass checks apart, which made me take notice of the writing on it. It read, "entrance," and pointed to her shaved and puckered asshole. The most we had done in anal play had been a few fingers and once a tiny butt plug that I bought her and made her hold it in her ass all night while we went to a movie but she had loved it. The image of Karen tied up with her ass in the air, waiting for me had my cock raging in a second as I stepped up beside her and gently caressed her ass.
"This is a great gift," I whispered to her as my middle finger found her asshole and pressed, making her moan.
"Do you like it, baby? I know you want to fuck me and I won't let you, but I want you to fuck my ass. But please use the lube on the bedside table," she whispered to me. I pulled wasted no time in stripping down and letting my cock spring free. I climbed onto the bed behind her and reached for the lube. I took a moment to stare in wonder at the tight hole I was about to deflower and add to the list of things I could do to her and I was so ready. I squeezed some lube out onto her asshole, rubbing it around with my finger before pushing my finger in up to my second knuckle and making her moan loudly at the intrusion into the otherwise unused hole. I fingered her ass slowly as she moaned and squirmed at the new sensations and begged me to keep going. When I pushed a second finger into her, she groaned but didn't say anything else as I finger fucked her back door. I finally pulled my fingers out her ass and watched it gape for a moment as if it still wanted my fingers, but I knew I'd soon be stuffing it to capacity. I squirted a bunch of lube on my cock and wanked it a few times to spread it all over.
"Here it comes, baby," I whispered as I placed the head of my cock against her twitching asshole. Grabbing her hips I slowly pushed against it and after a moment of resistance her ass let my cock in with a popping feeling. Karen's ass tightened around the head of my cock as she moaned loudly into the pillow, "it hurts, Kevin. It hurts, but don't stop." She bucked underneath me as I began to force more of my thick cock into her tight backdoor. She groaned and tried to move as each inch slipped inside of her, but she was secured to the bed. It took me a full ten minutes to get my entire length inside of her, but she knew it the second my balls touched her shaved cunt.
"Hold still," she groaned, "it hurts. Let me get used to it." I gave her a moment before I pulled almost all of my cock from her ass and then slammed it forward again, burying myself in her again and making her scream. Karen had always had a nice round ass, but as I was buried balls deep inside of her ass I took more notice of it. It was one of her best features in my opinion and I always liked slapping it to watch it jiggle. I began to pound her ass, making her scream over and over in a mix of pain and pleasure as I used her for my own pleasure, my own personal fuck hole. I finally slowed, leaving just the swollen head of my cock in her ass as I raised my hand and slapped her ass, enjoying it jiggle. I slapped it again and she moaned, "yes. Yes, yes, use me, baby. Fuck me like you own me." I wasn't about to argue with her and slapped her ass a third time for good measure before proceeding to pound away at her again, squeezing her ass cheeks and slapping her ass occasionally which made her asshole clench around my cock and made me fuck her harder. It took me about twenty minutes of fucking her ass before I came, filling her ass up with my cum. I pulled out and watched it run out of her ass and down her thighs slowly.
"My God, Karen. That was the best birthday ever," I whispered as I finally found the strength and presence of mind to untie her ankles and help her sit up, her hands still cuffed behind her. I pull of her blindfold and kiss her gently before telling her she is the best girlfriend ever.
"Well, my ass is now you're anytime you want it, big boy," she smiled at me, "now lean me over so I can clean your cock and get the last of your tasty cum." I wasted no time in leaning her down so her face was in my crotch and she sucked on my wildly, cleaning my cock.
"You know, this was only part one of your gift. Susan and Sara wanted to come over this week and take you for a ride in their asses and I told them they could as long as I get the cum."
I shook my head and kissed her cheek. "You're amazing," I whispered and finally took the cuffs off of her before collapsing on the bed and falling asleep. When Susan and Sara came over is another fun story, but I'll save that for another time.