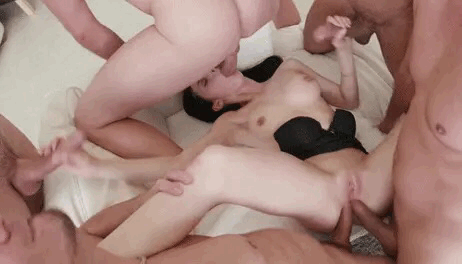 It was after their freshman year of basketball and camp had begun as all 5 starters were on board for sessions of training maneuvers. Kenya, Bobbie, Sherese, Terri, and the always bubbly Brandi were there to lead coach Kispwich's team. Coach K, since no one could pronounce his name correctly was going back to the fundamentals.
He knew he had Brandi's support; he always liked her for some reason but there was more to her then met the eye, and he couldn't put his finger on her. She in fact wanted him to do more then that and boy she wanted many individuals in higher up positions to put their fingers on her.
"Put your fingers all over me will you", she was quoted as saying in her online diary.
She aspired to be the team's nympho. Not yet as the sophomore danced around as if not a care in the world. She never flirted publicly with Coach K, but she always fantasized about him. A former All-American himself, he had the body of a point guard and a true basketball player could not ask for anything better then a player who desired him.
Of course there was her biology professor a young man also about 30 and he was a good looking black guy which to her was the ultimate prize almost, except for Coach K.
Bobbie loved cock. She had a fixation for it and adored it. She often lost her train of thought in practice when the coach instructed her. He did things that she wished he take one step further. Such as when he instructed her on the subtle fake move to her left or right and she wished he'd place his hand on her breasts. "Please touch me, please, oh please" she thought to herself.
Sherese was the only other one who behaved like her with desires such as that. She wasn't attracted to the coach like Brandi. No she was attracted to the assistant coach instead. He was a younger one at 25 and closer in age to her. Like Brandi, she was better endowed with her big chest and a full figured large ass. The assistant coach liked that about her. Somehow he found out she liked him too. She was also similar to Brandi in that she stood 5'11".
Both had longer hair. With both having larger round asses neither was ever deterred by their figures when it came to basketball or sex. Her personality was similar to Brandi's. She was spirited and outgoing. Unlike Brandi, she always flirted with the assistant coach. Brandi didn't 'have the balls' to flirt with Coach K, especially in front of the team.
One day she spoke to Sherese and she asked how she had such guts to go after Coach Blinker like she did. Sherese said "it's simple; he's not going to do anything to jeopardize himself. So do it. Try it."
One day while working out on her own, Brandi was shooting her three's. Coach K came in and saw her in her shorts and her tight sleeveless white t-shirt. Brandi, dying to get it on with him realized she was exposing herself and was turned on by the fact he was there in the gym alone with her. She went wild inside. Her nipples freaked out and became solid. They protruded right through her t-shirt. That's when Coach K saw them and he was ignited inside as well wearing only his poly shorts.
"Wow girl, canlı bahis şirketleri I've never seen anyone work so hard like you. You are so hard I mean you're a hard worker. He liked her spirit but he also loved her arousing looking t-shirt. Yes, he saw the hard nipples protruding but he never realized one of his players was as sexy as she was at that moment.
Anyways he put his thoughts aside. She went onto practice drills thinking about what he said as he watched her boobs bounce and shuffle. He continued to watch her in her white top as her tits flopped around. She wasn't making the moves correctly.
"Wait, wait Brandi, that isn't how you are supposed to do those. Here let me show you."
He walked up, put his arms around her, and showed her systematically which way to turn while she dribbled the ball. Her body ached for him to make the 'wrong' move.
"Oh yes, touch me, touch me coach. Cross over my body, my boobs, and my tits with your arms. Touch them softly and grace them with your hands, for when you do I will catch them, place mine on yours and hold us together as they we are supposed to be. Perfection will exist at that moment", she said to herself.
Her eyes had closed, her dreams swelled as did her vagina and nipples and waiting for his hands and arms to cross over her breasts seeming as if a lifetime passing when she waited.
Bingo and he did as she expected and she grabbed one arm, and then the other holding them against her tits. "Oh yes, yes she called out, this is what I've waited for. Having you touch me like you are is simply ecstasy."
Yes he was aware of her beauty and he was aware of her stunning tits and nipples, but he was not going to breach his contractual obligations to his players or the school. He pulled away.
"No, Brandi, I can not. As attractive and as beautiful as you are I am not going to violate you. I will not do that to you."
But she pleaded for him. "But, but don't you, don't you adore them? Are they not gorgeous to you? Do you not love my breasts and my nipples coach?" He wanted to say yes a million times to her. His cock ached for her body.
He did in fact desire her. "I can't, although, no I can't. I know what I crave, but I can not Brandi. Let's, oh god Brandi, let's drop it all. I'm sorry."
She wept and he dropped his head. He wanted the young woman. He wanted to give her his cock. He wanted to take her back to his place and let her to suck him all the way until there wasn't anymore to give. He walked away as did she in despair.
Meanwhile her roommate Sherese was getting her fill. The assistant coach broke down and they were back at her off campus apartment. He was banging his basketball player up her ass. On all fours, she was taking his cock well inside her ass and screamin for more and enjoying herself.
Loving every second of his awesome bad ass black cock, he grinded down inside her; she kept calling his name out. Now holding herself against the headboard, he pushed further up inside her large black ass. Shouting Yeaaahhhhh baaaabyyyyy, ohhhhhhhhhh yeahhhh, yeahhhh baaaaaaby give it up, canlı kaçak iddaa ohhhh yes give it up!" The black coach and black basketball player hooked up for the first of how many hurrahs.
Brandi lost out and headed for reinforcement from Sherese. She needed to talk and who better then Sherese. Maybe not now, but she needed someone since she just fucked up with Coach K.
Arriving at her place, Brandi didn't hear anything and she walked right on in as there was a momentary pause between the two and the activity going on. He was recouping his energy as she was repositioning herself so she could get more and more of him and his monstrous splendor inside her ass.
The two were sweating like pigs, but it was the best perspiration and exciting back side shuffle a man could ask for, especially from an athlete like Sherese. Brandi didn't call out for Sherese as usual. She was beside herself. She walked in and saw nothing. She walked down the hallway in deep thought and not listening whatsoever to anything. She needed consolation. She needed reinforcement. She needed to know she was still attractive and she came to the doorway of Sherese's room.
She looked up and the downtrodden Brandi saw a fine looking trim ass of a male staring her straight in the face. "Huh, what the fuck" she thought aloud. "Ohh shit she said, I didn't know" and that's when the two of them turned around in surprise and Brandi began to skip out. Sherese pulled herself off the coach and ran naked down the hallway after Brandi. Standing naked in front of the picture window, she and Brandi spoke. The coach understood nothing they said. He sat naked on the bed.
"Do you want sex that badly dear" asked Sherese, "Then if he is willing I will ask him to be yours and I will come later for mine. It is a gift for you. If it wasn't for you, I never would have hooked up with him. Go, undress yourself and I will leave for a while."
Brandi was dumbfounded. She couldn't initially just get undressed and have sex with a guy she wasn't attracted to but on the other hand she aspired to nympho status so she felt shortly after Sherese's words she could do it with her assistant coach.
"Hiiii ya coach, as her attitude quickly changed; isn't yours a beautiful and magnificent piece of wonder" referring to his bronzed equipment. I am in need of your services coach. I am in dire need. Feeed me, feeeed me that please!"
Then undress yourself girl. Take off all of it Brandi and let me see you as you are meant to be viewed. I want to see your breasts for the very first time. Yes those pudgy breasts I want to see and that fine, fine round ass that this man deserves when I so desire! Take off everything Brandi and I'm going to give you everything you want" he said in such a mesmerizing and subtle way.
Her face looked relieved. She was not as stressed. He sat her against the back board as she grabbed his long big cock and he let her place it in her mouth and she sucked it and sucked it. He went in slowly and came out slowly.
As her mouth ran over the smooth circular shaped tubing of the long hard dick, she released pent up energy canlı kaçak bahis she stored that was frustrating her all along. Finally she felt as though she was getting what was due to her. A man's body and now it didn't matter to her that Coach K denied her because the assistant was more then willing to please her or Sherese, or who knows who else.
"Do you like it in the ass" he asked her while she sucked him off. He seemed to have a thing for the girl's asses. "I sure love pushing up a tight hole and although I'm sure your juicy and sexy cunts are the best, I prefer tighter spots. So are you game Brandi? Gonna let me in there are you?"
Without even making a face, she turned over on all fours and he went in her as she initially squealed and screamed. He loved it and she took it even though she didn't enjoy it, she was getting it done to her. She came to love the feel up inside her ass.
"Ohhh girl, what a view and what an ass, it is so round and so smooth and so, so right in there. God I could chew you out all day. Smashing my face into your ass, oh baby, you've got a great shaped big white ass, mmmmm."
And she did, for as big as her ass was, she still could play ball with the best in the country. She had the quickness like no one else. She had quick feet and she was pretty and fine as they came for a young college coed. To top all that off that she was an athlete and this made her even more desirable to many.
"How do I feel girl cause you are sweet. Yeah girl your ass is awesome. Such a big bad white ass like yours and letting me go inside ya, oh yeah, mmm, oh yeahhhh girl you have such a great looking white ass! May I chew it out some more girl?"
"Ohh do what ya want coach, you are so, so fine!"
So he withdrew his hard horny cock and started nibbling at her big, plump, and soft white ass. She loved how he nibbled away at her ass. He loved how she felt in his mouth. He'd lick her ass and suck her ass, and chew or bite it.
When he bit into her though she screamed out in pain, but he'd go right back at her cheeks and do it again, and again. She'd squeal for more and more.
Finally he rolled her as her fat titty's faced him and he began wanking himself for her. As he jacked off, she started toying with her own clit. Becoming hornier and hornier each was ready to unload.
All of a sudden, Sherese walked in catching the two in action and she wasn't about to be left out. No way because he was her catch to begin with and so she quickly undressed and hopped aboard and she watched, and she began playing with herself; she lay down beside Brandi. The two were off and running and masturbating while the assistant coach was kneeling over them and jacking off.
Everyone was smiling and he began to explode over each of them and they both squealed excitedly as each also orgasmed. Shooting his load into both of hem they were bombarded with cum in their faces. Quickly he lay down and dove in to his players and began swallowing what they released in their flood of fun.
He couldn't get enough and neither could they. When he went to one they pushed his head up into their pussys and one or the other would trade off a 'time-share' of moments with their coach when he muffed the two players.
Brandi got lucky as did the other two actually. The only one for now who wasn't was Coach K. and soon enough, so would he.