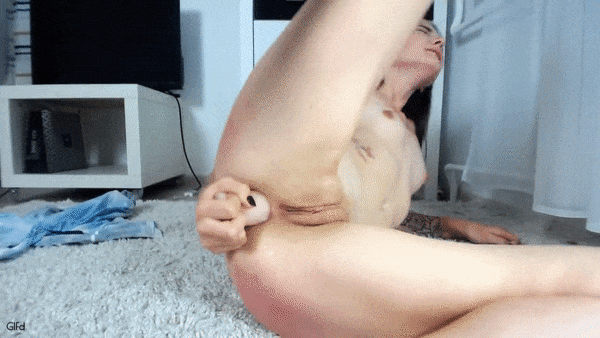 What a fantastic view. Five floors up in a swanky hotel, standing on the balcony as the sun sets and the street lights come on below. It's a beautiful summers evening and I am enjoying the warm breeze as it plays with my hair and rustles my dress. Its just a simple little summer dress but I always feel so sexy in it. Maybe its because I know he likes it or maybe its because I am naked beneath it. I wonder what it would be like to make love, right here on the balcony where any one can look up and see us. I have often fantasised about having sex in public but have always been too scared to actually do it. This balcony would be perfect though. The people below couldn't really recognise me but they would be able to see a naked girl up here with her man. I am getting moist just at the thought of it.
He's behind me. I can sense it. He's not making a sound but I know he is there. He's watching me. He has told me before how he likes the light to come through my dress, showing the outline of my body.
I feel his breath on my neck. God, I just melt when he does that. My body trembles a little and a sigh escapes me as I think about him fucking me out here. I look down and see all the people rushing past on the street below. If one of them looked up now, could they see the lust in my eyes?
I arch my back, I want to feel him but he keeps the gap between us as his breath moves down my neck.
I can see his hands as they cup my shoulders, I can feel them on my skin, even though there must be an inch between us. It's like two magnets being pulled together.
God I love this man. He always knows what to do and when to do it. Every day is a surprise and everyday I love him more. I tremble again, like a shiver down my spine and my hands twist into fists as my tummy and my pussy seem to share electricity.
Those kisses to my neck are really getting me damp, I can feel my pussy squeezing, my boobs swelling. I feel the strap of my dress slip from my shoulder, replaced with his hot lips. If the other one falls, my dress will drop to the floor. Will he do it, Will he stand me here naked, let me be inspected by anyone who wants to look?
A small orgasm hits me, then another as I feel him take the other strap in his hand.
He stops, just stands behind me. He wants me to feel everything, he always wants that. He knows I love the anticipation, the fear. I stand up straight and look out over the city, too scared to look down in case someone is watching me, in case I catch their eye just as my dress bahis firmaları falls.
I feel part of the strap fall on my shoulder and I gasp, the dress doesn't fall though. Maybe its my bullet hard nipples that are holding it up? It falls.
The cotton sliding down my body feels like a soft caress bringing up goose bumps all over me. The fresh air bringing a sensation I find hard to describe. Not just a sensation on the skin, more like a door opening in my mind and a new range of pleasures being opened to me and a sense of freedom to enjoy them.
I dare myself to look down and see if anyone is watching me. A woman walking arm in arm with her man glances up and our eyes meet. There is no shock in her eyes, just a smile on her face. A shiver of excitement goes through me.
I push back into him and he takes me in his arms, kissing my neck and stroking me all over. I am watching the woman lead her man over to a bench and then point up at me. Just then he grasps my head and turns it to kiss me on my lips. I am shaking with excitement and dripping wet. I can't believe I am in the open air, naked, about to be fucked with two strangers watching.
Sparks fly off my pussy as he runs his finger up my sopping slit, I love my own taste and greedily lick at the fingers he offers to my mouth. Feeling them in my mouth and my pussy at the same time it seems.
His hands are all over me but he doesn't touch any of the places I am desperate for him to. My pussy throbs and my nipples ache for him. He has my breasts in his hands driving me insane. I try to get my nipple in his hand but he is playing games with me. This is why I love him so fuckin much. He draws every second out of every experience.
Pulling my hips back he has his hard cock against me, grinding against me with it. God I love that cock. It is a thing of beauty to look at, smooth and hard with a taste that makes me wet just to think about. I love to feel it inside me, down my throat or in my bum and my pussy must have been tailor made for him. Just to see it, dream about it, touch it, drives me wild with lust. I want to suck it all the time and worship it with my whole mind and body. I can't believe I found a man like this.
Fuck. Oh god his tongue is licking my bum hole. Fucking hell. I want to cum. He's pushing it inside.
He moves lower, I can't stop myself grinding back on his face. If people can here my moans I don't care, my whole mind is centred at my pussy as he sucks my lips and pushes his tongue in me. Slowly he kaçak iddaa is moving towards my clit. I know I could squirt in his mouth as soon as he touches it but I am not allowed. One of the rules is I must always ask before I cum and I know he won't let me yet. I have to really concentrate on not cuming as he traps my clit with his lips and starts sucking and biting on it. I want to scream and cum on his face but then he is gone.
His fingers fill me, I have to fuck them, I can't help it. I push back and grind my hips trying to get them all in me. I bring my own hand down to play with myself but he is not having that.
Next thing I am down on my knees in front of him. Still shaking from being so close to orgasm I fumble for his cock.
I want it in my mouth, I want to see the look on his face as I suck it, but I can tease as well.
I hold him in my hand as I look up to see the lust in his eyes and flick out my tongue to taste him. I adore worshiping his cock and I know all the things he likes me to do. He pulls my hair to get deep inside my mouth and I relax my throat as he pushes in. What a shared feeling of trust and power we have. He reaches for my breasts, my nipples are rock hard as he pinches them, using them to lift me up and spin me round. At last he is going to fuck me. It must be time for me to cum soon, my whole body is on fire.
He's at my entrance, I can feel him just stretching my muscle a little. I push back but he holds me. Then suddenly he is inside me. My pussy spasms around him sending waves of pleasure through me. He drives in as deep as he can and my pussy squeezes again. I have to ask him for permission but I can't find a breath as he keeps fucking me slow and deep.
My body stiffens, my back arches and my pussy tightens just as he pulls out and smacks me on the bum hard. I was going to cum and he knew it. Another slap to my pussy and I remember it is always more fun to do things his way.
I feel like his slut. His wonderful, liberated little slut. As his spit lands on my bum and his fingers push on my hole I can hardly believe how far I have come on this journey. Only a few months ago I was so shy I wouldn't kiss him in public. And now I am naked on a balcony with his finger up my bum.
He told me it might take a few months of training to enjoy anal sex but I loved it from the first time he touched me there. I love his cock up there and his fingers in my pussy. I wish he had two cocks so he could fuck me in both holes at once.
I know I can kaçak bahis trust him, I know he will be gentle at first and he is, as he eases himself in slowly. My anus is stretching to let him in and I can feel him on the top of my pussy wall. Its sort of like having my pussy fucked from the outside, if that makes sense.
I need him to play with my pussy and he does, I am screaming the place down, racing towards my orgasm. The thought of what we are doing being as exciting to me as actually doing it.
My beautiful man is fucking me in the arse and the whole city could be watching. His little slut lets him fuck her in public and she loves it and I make sure he knows.
My legs start to buckle as his fingers force there way up my pussy. Having that feeling of being so full of him is amazing.
I could cry when he breaks contact and the next thing I know I am on my knees again. His cock has just been in my bum but I waste no time in taking it in to my mouth. I gag as it goes in and then I am spun round and he is deep in my pussy. Pulling my hair back and riding me hard I can't help but scream at him to fuck me. He slaps my bum and I know I will be allowed to cum this time as I beg him to please let me.
I am so close, I know this will be one of the strongest orgasms of my life and I can feel an avalanche of pleasure about to roll over me.
He pulls my face round and I open my eyes. As they lock on the woman on the bench I almost lose consciousness as the avalanche hits.
My toes curl and my feet spasm, my legs turn to quivering jelly, my thighs start to shake. My back tries to bend double and my breasts swell to bursting as I trust them out. The heat is rising from my pussy, turning my tummy in knots and spreading a red blush over my chest and neck.
The spasms in my pussy are matched in my bum as every muscle in my pelvis contracts and relaxes. My juices are forced out of me and I can feel them running down my leg. I hope the woman can see them. I hope she knows how much my man can make me cum.
It all keeps coming, more intense than I could ever have imagined. Its like I am going into shock, I am shaking and sobbing with the pure joy of my orgasm. Gratitude for the way he has helped me again to try something I needed to do, without ever having to tell him that I needed it, floods me.
I have to fall back in his arms, I don't have the strength to stand. I open an eye in time to see the woman and her man give me a smile before she leads him off. I wonder what she has to look forward to tonight.
As he picks me up and carries me to bed all I need to make the night complete is to say thank you to him by sucking the load from his swollen balls and swallowing every drop of his special seed.