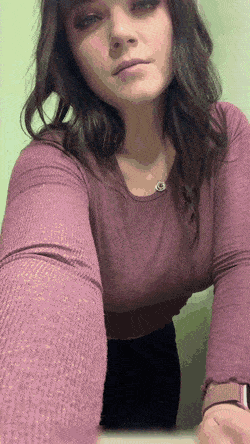 Warning, this is an extremely SOFTCORE and short, one-off story. My attempt at a simple erotic coupling, and probably best suited for fans of big boobs, but not fetish enough to belong in that category. All participants always of legal age.
____________
For the past nine years, Becky Sanders taunted me relentlessly. From the first time I'd met her, as a freshman at Wilford High School, to the times we bumped into each other at Statton College of Communications, she was always berating me. Ever the bully, and me her victim.
At Statton, I was working on my Masters in Sound Engineering, while Becky was earning hers in Broadcast Communications. She was shooting for a career in front of the camera, while I preferred staying behind the scenes. Becky was well-suited for the camera. She had sharp facial features, amazing hair, and an incredible body. Her tits, however, were much larger than the average TV personality's. She had a Dolly Parton figure. Regardless of her looks, Becky was always terrible to me, and made it a point to humiliate me every time we crossed paths. I loathed her.
I remember back in Chemistry 101 where she sat next to me. She was easily a C-cup by then, but her parents were in denial about their daughter's budding sexuality and hadn't yet allowed her to wear a bra. I was an awkward kid, and at the sight of those beautiful breasts gently bouncing with her every movement, I found myself often popping boners. Not a good thing in a Catholic school where loose slacks are the dress code. This happened frequently and Becky thought nothing more of me than being a super-creepy, awkward nerd.
"Stewart Jackson," she said aloud at the end of one period we had together. "Do you need a tissue?" The whole class heard it and saw me there, trying to cover yet another hard-on with my textbook.
"Hey, Creep!" she used to holler, every day, when passing me in the halls, even on the campus grounds. When I do try to say something to her, she always just shuts me down, and tells me she doesn't associate herself with perverts. It was humiliating.
Now, in our last months of school, we found ourselves once again sharing a class, an advanced Literature course. I was doing quite well in it, having always been a fan of reading. Becky, the typical bimbo type she was, was disinterested and struggling to hold a D average. I knew this, because for the first time ever, Becky was confiding in me, trying to have an actual conversation, while explaining her situation.
"If I don't get an A on the term paper, Mr. Tallus is going to flunk me. This isn't fair."
"I'm very sorry to hear that," I said. I wasn't sorry.
"Look, I know we haven't ever been on the best of terms, but you know, maybe this could be an opportunity to get past that."
"What do you mean? Do you want me to help you with your term paper?"
"Well, um… I was thinking maybe you could do it for me. You've always aced everything you ever touched."
This was true. Things came easy to me. I replied, "And what? In return for this, you will stop being a bitch to me?"
"Exactly," said Becky. "And I'm sorry if I took it so far, that you really think I am a bitch."
She wasn't sorry either, and I am no fool.
"Look, Becky. For the past nine years, you have teased me incessantly about being a pervert. You've made me out to be some dingleberry sad sack. I'll do your paper. I'll ace your paper for you, but if you want me to do that, you're going to have to pay me."
Becky's vapid smiled instantly vanished. "OK, fine. How much do you want?"
"I don't want money."
Becky thought she knew where I was going with this, and responded immediately. "I am not a whore! Think of me what you want, but I casino şirketleri am no whore. I am NOT having sex with you!"
And I didn't want it from her. I think Becky underestimated how much disdain I have for her. It was never my intention to give her any impression that I lusted after her, but the bitch deserved to be knocked down a notch or two, I thought.
"You know that Fremont Solstice is coming up this Saturday. It's a bike ride where everyone paints their body and rides downtown. You are going to participate in that."
"I will do no such thing."
"Fine. Good luck on your paper."
I turned, picking up my backpack, slinging it over my shoulder.
"Wait, wait," she said. "You don't understand. I intend to be on TV. People take pictures at those events. It would ruin my career. Ask me for anything else, Stewie, please. Please!"
Now she was calling me Stewie, yet the tone in her voice was sincere, if desperate.
"OK. I understand your dilemma. Here's the deal. You can paint your face, even wear a mask, Mardi Gras style. Dye your hair, do whatever, but you go through with the rest of it."
Becky thought for a moment, almost quivering. "And you'll do my paper?"
"Every bit of it," I said. "Like I said, you can paint your face or wear a mask, and no one will know it's you. But here's the deal. If you want me to do your paper, you are not allowed to cover anything else. Only your face."
"What?" screamed Becky. "Completely naked?"
"That's the deal. Take it or leave it."
"You see? I knew I was right. You are a filthy pervert!"
"So you have been telling me all these years, Becky. I suppose I intend to make good on it. You've teased me incessantly, and I never did anything to you. I always stayed out of your way, yet you still made it a point to seek me out and berate me constantly. This is payback."
"You're an asshole."
"I'll pick you up Saturday morning at nine, so we can make it there in time. It's an hour's drive or more. What's your address?"
The next three days passed quickly and I soon found myself pulling up to Becky's apartment complex to take her to the naked bike ride. Moments later, she came walking out, fully clothed in jeans and a tee, carrying a loose backpack. Her hair was dyed a bright red, and her face was covered in dark green and blue tiger stripes. The shading of the stripes changed her features in such a manner that it was impossible to tell it was Becky. Her tits, however, gave her away. They looked so prominent under her tight shirt. I couldn't believe I would be seeing those soon.
"Wow, that's an amazing job," I said, nodding at her paint work.
"Thanks, I guess. I still cannot believe you are making me do this. I'm really nervous, you know. I never behaved this way before."
"Well, you should be happy."
"Why's that?"
"Because I'm almost finished with your paper."
"Already?"
"Yup. Trust me. You'll ace it and the professor will never know it wasn't you. I wrote it in your voice."
"You're joking."
"I'm serious, Becky. I am meeting my end of the agreement. I might hate you, but my word is my word."
Becky sighed heavily. "You hate me?" she asked softly.
I scoffed. "Well, you know what I mean. You used to bully me, so there's this 'arch-nemesis-angst' thing on my part."
I looked away from Becky. In truth, it did feel kind of bad making her do something against her will. Still, I was familiar with this event and it was harmless fun. Hopefully, it would make her back off from being such a bully in the future.
"Stewie. I don't know if I can do this."
"Becky, you cannot back out."
"I have a confession to make." She paused, casino firmaları but I didn't interject. "My breasts are hideous. I mean it. They are very ugly."
"Oh, come on," I said. "I know that is not true. You're just wanting to back out. Tortured me for years, and now you don't even want to give me my fifteen minutes."
"It's true. Ever since I was a sophomore, my breasts started growing funny. They're both huge, but one is easily a full cup larger than the other. I have my bras special ordered to minimize the effect. One day, I hope I can get surgery to get them reduced, and even in size."
Becky was almost crying. This really was a concern of hers, and was going to be very humiliating for her. I tried to put her at ease, rather than digging in.
"Look. The issue you have is not as uncommon as you think. I'm sure you have terrific breasts, Becky. You should own them. Make them a part of your identity. Women have body image issues all the time and you, in the career you're in, you could champion body acceptance, and shame the body shamers."
I couldn't believe what I was saying. Was I genuinely being nice to Becky, or hoping I could convince her into keeping her end of the bargain? Both, maybe.
"Well, I never thought of it that way."
"Come on. Let's get to the park and meet up with the other riders. You will see that all body types are there."
I pulled out of the drive and in minutes we were on the highway.
"So where do we undress when we get there? Do they have stalls?"
"They didn't last year."
"You watched this last year?"
"Becky, I'm in it. Why do you think I packed two bikes?"
Becky's jaw hit the floor. She looked me up and down. "I would never have guessed. You're going naked?"
With clothes on, I tend to look on the skinny side, but naked, I have a 'lean' or 'cut' look, a swimmer's build. I didn't pack on many pounds, but a steady diet of healthy eating, and daily body-weight exercises, worked wonders on the physique. After high school, my muscles filled out even more. I was proud of my body, and I enjoyed the bike event the previous year. Though I am certainly introverted, and perhaps even socially awkward, I still like to have fun occasionally. Kind of ironic that I was now bringing my arch-nemesis to the ride.
"I'm painted as Spider-Man below the neck this year. You'll see."
"Oh my God. I cannot believe I am doing this."
I laughed. "I gotta tell you. You're a gutsy lady. Let's have a good time."
She tried to smile. "If only you knew. You will soon, I guess."
An hour later, we walked our bikes to the middle of the park. We were there early with about 50 or 60 others. Hundreds more would come.
"Is there any way I can talk you out of this," Becky asked.
"Look, if you're really that nervous, fine. But you know what? You'd be missing out."
"On what?"
"I can't explain it until you experience it. I mean it. This will be better for you than you realize."
"I doubt that," she said.
"Me first. Then you decide."
There were a handful of the people standing around who had already gotten undressed. Some started work on painting their bodies right there in the park, I stripped down and put all my clothes in my backpack. I'd be standing around naked for a couple hours, before the event even began. My cock was hanging rather nicely. I knew it would, having not jacked off for several days. I was blessed in the crotch department. A thick, meaty cock, easily eight inches fully erect. My dick was painted blue for the costume and Becky was caught off guard by its heavy swaying, with my movements as I tucked away my clothes. "Well, what do you think?" I asked.
"Umm…" Becky paused, güvenilir casino eyeing me slowly up and down, seeing for the first time my muscular, yet lean, frame. Her voice trailed off as she said, "I think I should have gotten to know you better in high school."
I laughed out loud. It was genuine flattery, and for some reason I was warming up to Becky. Finally, Becky shook it off.
"Well, OK, I am impressed. I guess I can understand why you are fine with doing this. I cannot say I have as nice a body as yours. You look better with your clothes off, than on. I am just the opposite."
For nine years, I'd lusted after Becky's body. Understand, I didn't lust after Becky herself. She was certainly a knockout with her clothes on, but iIt was her personality (at least up until now) that turned me off of her, no matter how pretty and confident she appeared. Nevertheless, now she seemed nervous and upset.
"I really think you are over-blowing it," I said. "In fact, I'll bet your body is amazing. You have a thin frame and well… a very nice ass. Sorry to be so frank. So the only thing is, you must genuinely think your tits ruin the look, huh?"
"They do."
"They do not. You don't understand that men do not expect everybody to be Barbie dolls. You're hung up on it. Let it go. Those things could sag to the floor, and you'd still be beautiful."
This time, Becky laughed. Her first real one. "Well, they don't hang that low. They're big banana tits, Stewie. It's my areolas. They cover almost half the flesh. They never stopped growing with my rocket tits."
Now I was laughing at the descriptions she was giving. "I happen to love bananas," I said.
"Hah! But not the same, buddy."
"No, actually, I mean it. My dad kept his old Playboy collection in the attic. Many times I found myself looking at pages of breasts like you describe. So classic, and awesome! Hardly ever see it anymore."
"No wonder you were always ogling me," said Becky. We both paused for a moment, looking at each other, before bursting into more laughter.
"OK, I admit," I said. "I did kind of fixate on those things."
"I know. But you weren't the only one. It's why I wear these bras."
She said that as she pulled off her tee revealing a large black bra, cleavage protruding out.
"Looks pretty good with the bra on, right?" she said.
"I would say so," my eyes on fire. Amazing.
"Well, here's the deal. I will take this off, but you have to be honest. If they're ugly to you, let me know. I will wear my bra instead."
"I'm privileged you will honor my opinion," I said.
Becky was right. Her left breast was clearly a cup size, and a pound or two heavier, than her right one, which in and of itself was huge. They appeared much larger without the bra on. Clearly, the brassier industry has somehow defied the laws of physics, I thought. And her nipples. Just huge! Exactly as described. They were out of the ordinary, but I loved them. I told her exactly that.
"What do you mean, you love them?"
"Honestly, I have never seen anything like them. That does NOT make them ugly, only unique. I am telling you I really like it. It's a turn on, and I have to be honest…"
"About?"
"I have to stop looking or I am going to have problems like I used to. You remember?"
"Oh, I remember. And that is hilarious!"
We both giggled and after a brief pause, I said, "Becky, your body is incredible, and I think you should be proud of your breasts. Regardless, if you're really uncomfortable going without your bra, you may put it back on.
Becky didn't skip a beat, "Nope, you can have it!" She threw her bra at me, hitting me in the head. "So when's this shindig start?"
"Not for another hour so," I said.
"Good, that gives us time to get to know each other a little better. I'm sorry we never really have."
"Yes, let's," I said. "I think today is going to be a very good day."